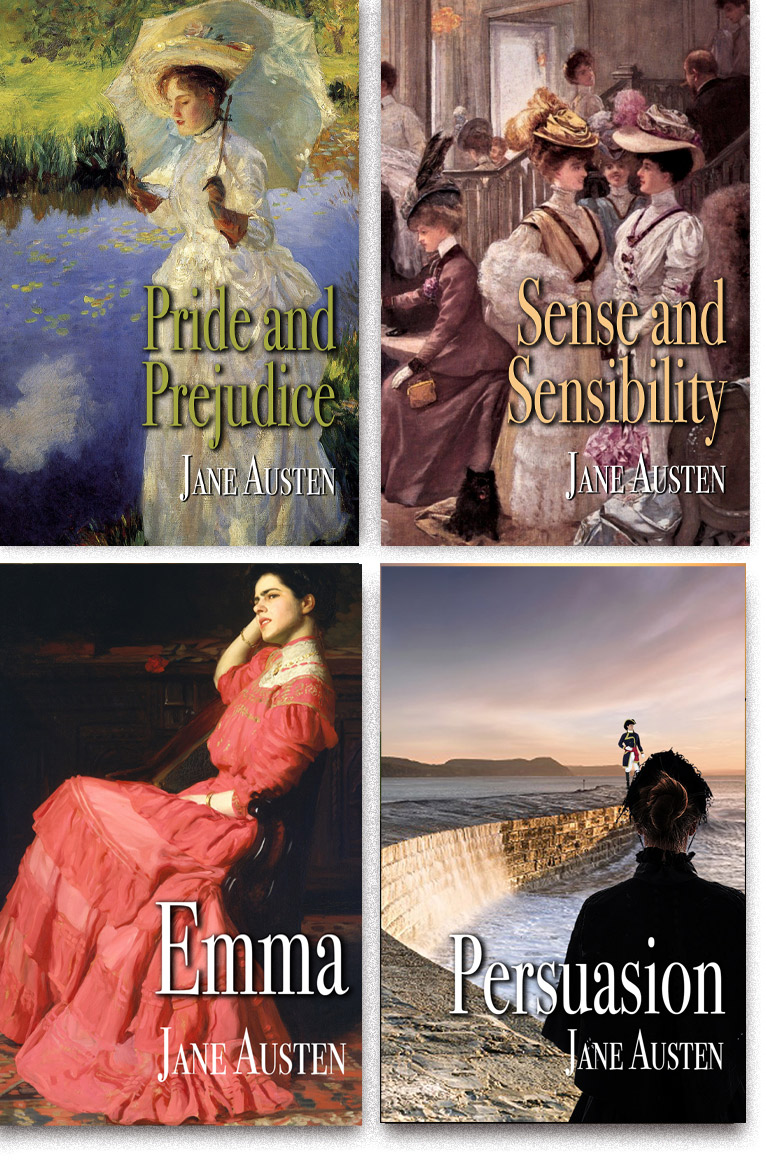 Pride And Prejudice
The story follows the turbulent relationship between Elizabeth Bennet, one of five daughters of a country gentleman who is keen to see them all married, and Fitzwilliam Darcy, a rich aristocratic landowner. But they must overcome the pride and prejudice that stands in the way of their courtship before marriage can be a possibility. 
Sense And Sensibility
When Henry Dashwood dies, the resulting financial disaster forces the rest of the family move to Devon to a modest house. A comedy of manners that examines the differences between two of the daughters as they pursue love and marriage – the one having more sense and the other being emotionally sensitive.
Persuasion
Anne is the daughter of vain and pompous Baronet Sir Walter Elliot. She is umarried having met and fallen in love with a low-ranking naval man, at age nineteen, who she had been persuaded not to marry by her mother's great friend —and her own trusted confidante, the widow Lady Russell. Now she's on the shelf and Captain Wentworth has found his fortune…

A story of romantic mis-adventure. Although convinced she herself will never marry, Emma Woodhouse, a precocious twenty-year-old resident of Highbury, imagines herself to be naturally gifted in conjuring love matches. After self-declared success at matchmaking, the resulting attempts to pair up her acquaintances proves less than engaging.
Jane Austen from the BookStreamz Classic Editions
One of the most famous authors in the world, Jane Austen's Pride and Prejudice is regularly named amongst the top 100 books of all time around the globe. Austen's wit and irony in stories about social etiquette amongst the landed gentry have made her work popular for screen and theatre adaptation satisfying an ever hungry audience of period drama enthusiasts over and over again
But Austen's pith and caustic ridicule was not popular with her family and much of the biographcial information about her was destroyed after hear death – most notably by her surviving sister who wanted to make sure "younger nieces did not read any of Jane Austen's sometimes acid or forthright comments on neighbours or family members".
Much of Austen's writing deals with the dependence on women on suitable marraige to make their way in the world – and ironically the only man she appears to have been particularly attracted to was deemed unsuitable her family since he did not have the means to support her. Writing to her sister, Jane tells with typical humour of her early meetings with Thomas Lefroy "I am almost afraid to tell you how my Irish friend and I behaved. Imagine to yourself everything most profligate and shocking in the way of dancing and sitting down together."
No-one ever quite lived up to Tom and Austen never married.
Austen's books were published anonymously, she received little in terms of either attention of financial reward – and it wasn't until the 20th century that their popularity really blossomed – and perhaps more now know Austen's work from the many adpatations than the books themselves. Watch out for the screen version of Persuasion coming soon!
Keira Knightly and Matthew McFadyen line up with Dame Judi Dench, Donald Sutherland and Brenda Blethyn in the 2005 adaptation of this all time classic. Watch the trailer here..
Jane Austen
Born in 1775 to a family of modest means, her father was a rector and she was one of seven children. She was sent to Oxford with her sister Cassandra for tutoring and moved from there to Southampton with their teacher, but both were sent home with typhus and Jane nearly died.
Austen wrote 6 novels, 4 published during her lifetime and 2 posthumously and 1 was uncompleted, called Sanditon. Sense And Sensibility, Pride And Prejudice, Mansfield Park and Emma were all moderate publishing successes for Austen, who became known for her comment on the social etiquette of English landed gentry and particularly the reliance of women on suitable marriage for their success and standing in life. Her works have been extraordinarily successful over the two centuries since her death, with a huge appreciation for her biting irony, humour and realism, and have made popular adaptations into many films and TV series – but they only gave her very modest income during her lifetime.
It's rumoured that she may have written over 3000 letters during her lifetime, many to her sister Cassandra, who destroyed the majority to protect them from prying eyes. She also wrote shorter novels and plays. Despite being a prolific writer of stories about love and romance, Jane Austen never married. She had several suitors but never committed to any and had lofty ideals when it came to marriage, perhaps no man could ever live up to those ideals. The cause of Jane Austen's death is the subject of speculation, but she is known to have been ill for some time before she died, documenting her sickness and failing for some time to do anything about it.
 Jane Austen died at the age of 41 having left an incredible legacy of which she was not aware, that has since become a body of work known and loved globally.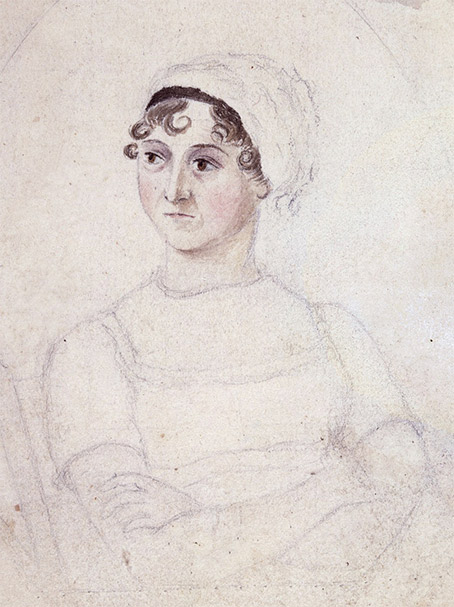 It's hard to think now that people would have been so appalled by Austen's wit and sarcasm – to modern audiences her works are a joy of historical comment on social rules and marriage. Fabulous to watch and to read
Pride and Prejudice [making the film] was so amazing because I've been so obsessed with it since I was about eight.
This book is my jam. Jane Austen is my jam. I love everything about her and this book.
Austen was a brilliant writer. This story is timeless.
Simply beautiful.