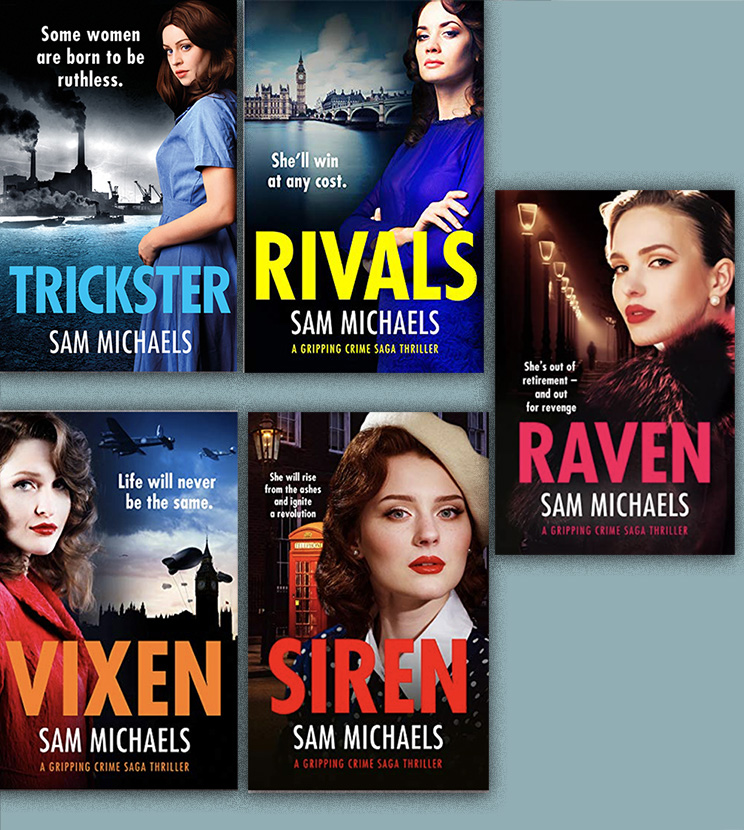 TRICKSTER
Book 1 of the Georgina Garrett Series as WW1 ends, Georgina Garrett is born to a poverty stricken father who loses his wife in childbirth. Determined to protect his daughter he brings her up like a boy and teaches her the only skills he has… fighting and thieving. Georgina is now set for a life of crime…
RIVALS
Book 2 of The Georgina Garrett Series As Georgina takes control she's surrounded by Rivals who want to take everything away from her. Amidst the turf wars there are challenges to with her relationships too and an encounter with a South London gang leader will have a lasting impact on her life.
RAVEN
Book 5 of The Georgina Garrett Series She's out of retirement – and out for revenge. Georgina may have walked away from the game but she's still the best player on the street. Now, she will stop at nothing to get her husband back and to make whoever took him pay for ever daring to set foot in her town.
The Georgina Garrett Series
War Torn London is about  to get a New Gangland Crime Boss – and She Will Rule with a Fist of Iron
TRICKSTER | RIVALS | VIXEN | SIREN | RAVEN
With the publication of the latest book, Raven, this gripping war-time saga is now complete – 5 stories that will have you on the edge of your seat from beginning to end. And it's definitley not for the faint-hearted!
The Georgina Garret series of five books is a compelling, knife-edge saga that crosses two world wars and spans four decades of gang rivalry in London's Battersea. After Georgina Garrett's Mum dies at her birth, her Dad Jack, a poverty stricken petty thief, moves in to the matriarchal home and vows to bring his daughter up to be tough enough to take care of herself – and on the rough streets of Battersea, that means he brings her up like a boy.
It's not long before 'George' faces her first rival in the mean, cruel Billy Wilcox, son of the local gang boss Norman. Jack teaches her to box and how to thieve to survive and Georgina grows up with a fierce determination to fight for her rights – and for the rights of other women.
When Georgina takes her place at the head of the Battersea empire, she runs her empire of brothels, 'insurance' services and gambling dens with efficiency and aplomb – and she manages her rivals with brutal finality. It's a tale of survival against the odds, of love, of loyalty and of a woman whose fierce determination to do what's right be her allies leads her into battle with her many… rivals.
It's Peaky Blinders from a woman's viewpoint, it's compelling drama that will keep you gripped until the very end. 
'Terrific – read it and be hooked!' – bestselling author Jessie Keane on Trickster
Readers are loving RAVEN!
'Fast moving, gritty and not for the faint hearted' ⭐⭐⭐⭐⭐
'Another fantastic episode in the series' ⭐⭐⭐⭐⭐
'Yet another amazing book by Sam Michaels' ⭐⭐⭐⭐⭐
'Gritty, violent, edge-of-your-seat tension. The end – phew!' ⭐⭐⭐⭐⭐
'This is a BRILLIANT book and Sam's fans will love it. Worthy of more than 5 stars!' ⭐⭐⭐⭐⭐
When Georgina met David… watch the trailer of Rivals, with Sophie Hopkins and Harvey Quinn… coming soon on BookStreamz
SAM MICHAELS
Sam Michaels writes gangland sagas set in Battersea, South London, which is where she was born and bred, the council estates being her playground.
After leaving school at sixteen with no qualifications, Sam married soon after and had a son. The marriage ended quickly, and as a single mother, she worked in various retail positions until undertaking an Open University degree. This led to Sam becoming an analytical scientist and then into technical sales where she met her husband.
A few years later, they moved from Hampshire to Spain. It was then that her mother, the Sunday Times best-selling author, Kitty Neale, inspired Sam to put pen to paper. She now writes her novels in sunnier climates with the company of her husband, four dogs and six cats.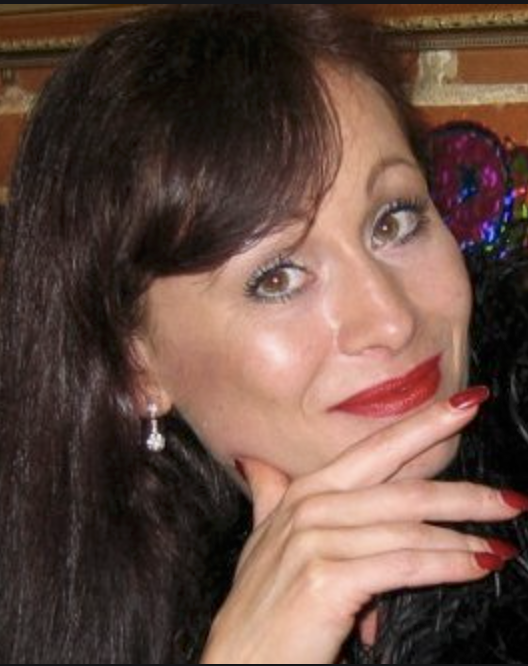 Perfect for Fans of Peaky Blinders, Martina Cole and Lesley Pearce. Gripping drama and brilliantly engaging characters
Sam Michaels is an exciting new author and Trickster is a must-read! Captivating and fast-paced, this first book in the Georgina Garrett series is a real page-turner that I highly recommend
Totally Gripping, I couldn't put it down. 
Georgina Garrett is a force to be reckoned with
A brilliant read