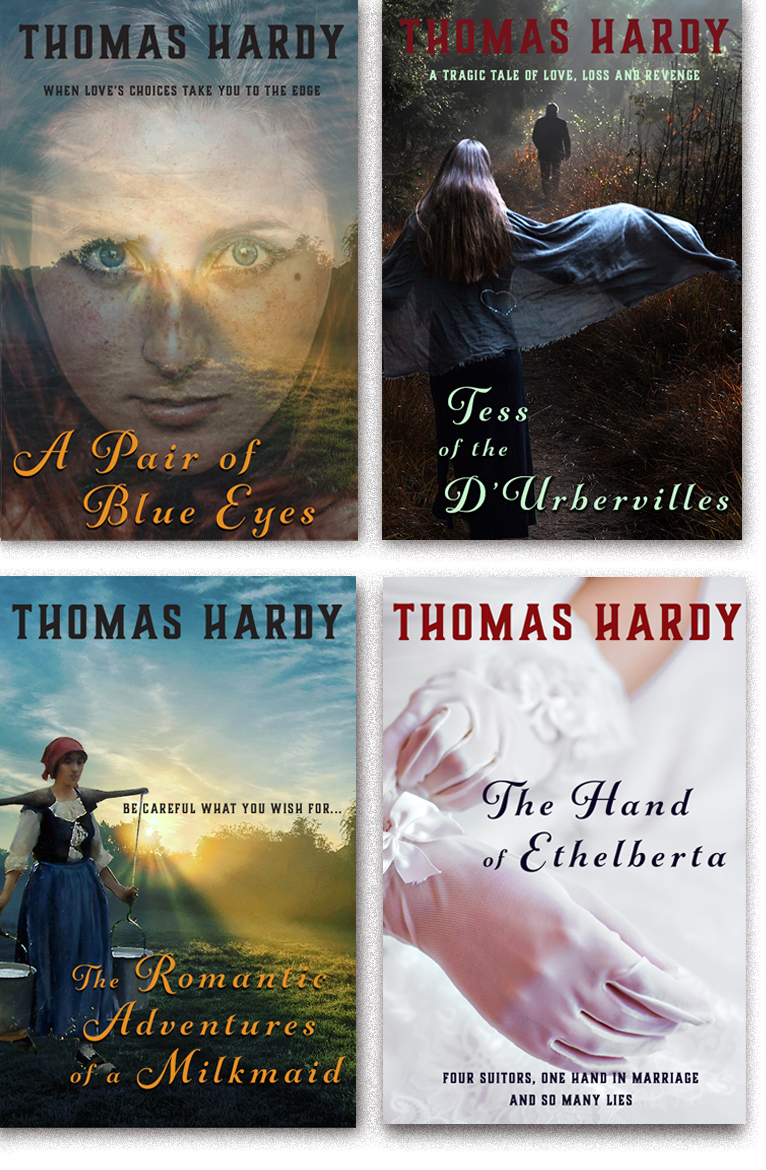 Tess of the D'Urbervilles
When Tess Durbeyfield's poor, working class family find they may be related to the wealthy D'urbervilles who now occupy the mansion nearby, they send her to seek her fortune, with tragic results. This famed story is in classic Hardy tone. Be ready to cry – and possibly get a bit annoyed.
A Pair of Blue Eyes
Elfrida's father does not approve of her love interest; he thinks Stephen Smith is below her and wants her instead to encourage the approaches of Henry Knight. In the end, both lose out. Years later, they each return to claim her hand. But will they be too late?
The Hand of Ethelberta
Four suitors pursue the hand in marriage of the eligible and beautiful Ethelberta. But is she who she seems? And will they find the truth before betrothal? A rare comedy from Hardy – but can he really offer a happy ending or will Ethelberta's naughty ways have typically tragic results?
Thomas Hardy from the BookStreamz Classic Editions
Thomas Hardy's lesser known works shine a surprising light on an author best known for dark tragedy – murder mystery, comedy, even a touch of Cinderella,  feature in novels that are decidedly lighter than the troubled times of Tess.
Tess of the D'urbervilles is probably the most famous of Hardy's works, many of which feature the kind of relationship triangle exemplified by the torrid conflicts of Tess's entanglement with the manipulative Alec D'Urberville and the enigmatically named Angel Clare.
A sweeping and weeping tale set in Hardy's fictional Wessex, Tess's vulnerability and naiviety combined with the unrealistic expectations of her family for her to seek fortune, lead her into a difficult situation – one that has consequences for the rest of her life.
We've also featured lesser known works that will appeal to a broader audience – The Hand of Ethelberta is a rare comedy in which four suitors compete for the hand of the beautiful Ethelberta – but will she bag herself a husband before her secrets are revealed?
A Pair of Blue Eyes was Hardy's third novel, one in which the tragic irony of rejected love plays a strong part. Another triangle, this time with our protagonist, Elfrida Swancourt being pursued by the gentle but lowly Stephen Smith – who is rejected by her father – and the more suitable, but pompous Henry Knight. Both lose her love and leave her life. But her allure cannot be denied by either, and both return to try and win her hand… but are they too late?
Like a bit of period drama? Watch the trailer of Rivals, a 1930's gangland thriller with Sophie Hopkins and Harvey Quinn… coming soon on BookStreamz
THOMAS HARDY
Born in 1840 in Dorset, Thomas Hardy is one of the most famous British Classics authors. As well as a novellist, Hardy was a published poet and also trained as an architect. His works are known for their tragedy and Hardy, as a romantacist, was also deeply interested in the nature of relationships and the social impact of class. Many of his novels are set in the semi- fictional area of Wessex, which covers his home countty of Dorset as well as Devon, Hampshire, Somerset and Wiltshire. Hardy's most famous works include Far From the Madding Crowd, Tess of the D'urbervilles, The Mayor of Casterbridge and Jude the Obscure. But he wrote 18 full novels plus one which was destroyed (for fear it would damage his reputation) and many short stories. His books often invited controversy and many of his lesser know works are more daring than many would think! And here's a fun fact, in one of his early books (available here for you to download) , Hardy included a scene that was responsible for the coining of the phrase "cliffhanger". Have a read of a Pair of Blue Eyes (which is also said to be in part a reflection of his courtship of his wife, Emma Gifford).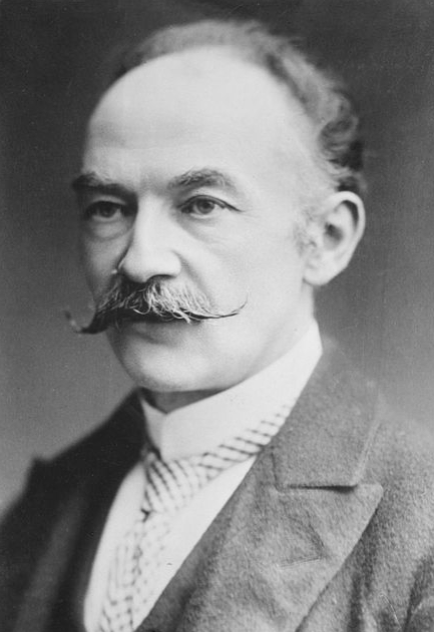 For fans of period drama, Hardy's books are full of sweeping enigmatic characters, ripe for screen translation – but don't expect happy endings, Hardy's most famous story telling trait is tragedy – and he delivers it is spades
Thomas Hardy's Wessex is a bit like the moors of Wuthering Heights; sweeping and desolate, pretty and quaint. It has all the feels. Some of his female charcaters are beyond tragic and his heroes can be infuriatingly obtuse – but nevertheless you will be hooked by his tragic romanticism
Awesome gem discovered
Can't go wrong with Mr Hardy – first class
Rustic tale of romance narrated in Hardy's beautiful style